Nobody Saves Jazz in the Atmospheric, If Slight, "Flock of Four"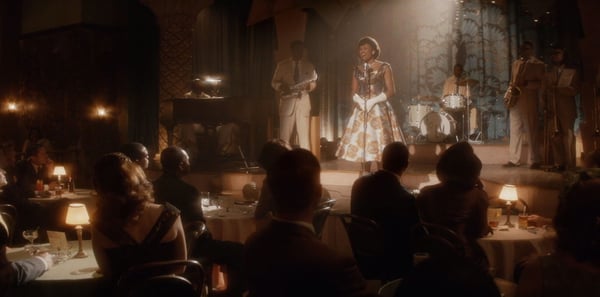 From
VillageVoice.com
- by Abbey Bender
Flock of Four
is a warm if ultimately slight portrait of a group of jazz aficionado friends on a single late-Fifties California night. Gregory Caruso's film started life as a short, and you can tell. The expanded
Flock of Four
still has about a short's worth of characterization: The four young men at its center are more or less interchangeable white guys, without many distinguishing qualities outside of their love of jazz. Caruso does push into racial dynamics, as the protagonists go to a jazz club and are put on the spot by a black musician, and a climactic scene between Joey (Braeden Lemasters), the de facto leader of the friends, and Pope Dixon (Reg E. Cathey), the musical hero he's been trying to see all night, creates some compelling tension. Cathey, who passed away earlier this year, brings a gravelly voiced, mysterious gravitas to the role.
He's more interesting to watch than his young admirer, and the filmmakers seems to know it. Ava Moore (Coco Jones), a young jazz singer who Joey and his friends meet at the first club they attend, is the one woman onscreen who has a trace of an inner life — she sings passionately and has far more to say than the other female characters. Jazz clubs, with their mood lighting and expressive sounds, are inherently cinematic settings, and
Flock of Four
presents its world in dark tones suffused with a soft glow. It's atmospheric, and all the music is lovely, but unfortunately nostalgia can only do so much of the heavy lifting.
Flock of Four
Directed by Gregory Caruso
Abramorama
Opens April 13, AMC Empire 25